---
Welcome to Purple Lamb!
Purple Lamb is about joy--the joy of creating using soft, luxurious yarn and fiber that lavish every sense. It's about color and softness and texture running through your fingers as you create your own work of art out of high-quality hand-dyed artisan yarn and fiber.
Everything in my shop is soft enough to wear next to your skin. I use merino, silk, baby alpaca, and a few other really soft materials so you can make wearable art that you'll really want to wear for years to come.
It is my constant goal to offer you beautiful, soft, and carefully crafted yarn and fiber at a price that's fair to all of us. I have been in business since 2011, and I treat my customers as friends.
I find inspiration everywhere, but my focus is on fabulous modern colorways inspired by classical literature, art, and music as well as the beautiful world around us.

About Me
Welcome! My name is Carla Hanson, and I'm a dyer, spinner, art batt maker, weaver, knitter, and lover of all things woolly and soft. I began learning to weave in 2003 and have delved deeper and deeper into the fiber arts ever since.
I've been married to a wonderful man for 29 years, and we have seven children. Yes, really! ;-)

We live in North Texas. My husband and children help me with Purple Lamb as their time and interests allow, but I'm pretty much the chief cook and bottle washer around here.
For their entire lives, my children have heard me tell them to find something they love doing so much that they would do it for pure joy and then find a way to make a career out of it. Well, guess what? I have done just that, and I couldn't be happier.  And I owe that to you--my customers. I'm so grateful to all of you!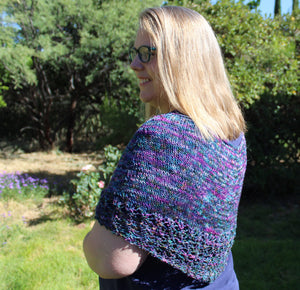 Sign Up for My Newsletter & Receive a 15% Off Coupon
My weekly newsletter includes shop news, free patterns, tutorials, interviews with awesome pattern designers, and secret sales for subscribers only.
You'll get your coupon code by email right away. If you don't see it, be sure to check your spam folder.