---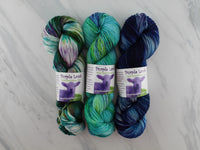 I have created a few sets to go with Andrea Mowry's amazing Shift Cowl pattern. This is such a neat pattern!

Each set has 3 full-sized skeins of sport-weight yarn specially chosen to work beautifully for this pattern. However, you could certainly use these sets for a different pattern or a design of your own.
This set has Galadriel's Gift, Ocean at Night, and Rivendell on Super Sport. I included a 10% discount off the individual skeins for the set.
The set does not include the pattern, but you can get that directly from Andrea Mowry on her website or on Ravelry.


YARN FACTS
Galadriel's Gift, Ocean at Night, and Rivendell
328 yards each / 3.5 oz / 3 plies - 984 yards altogether / 10.5 oz altogether
80% superwash merino /  20% nylon
Care: Hand wash cold and air dry.

NEWSLETTER
Please consider signing up for my weekly newsletter. You'll find secret sales for subscribers only, interviews with pattern designers, tutorials, and announcement for new product lines. You'll also receive 15% off your first purchase from Purple Lamb when you sign up.