---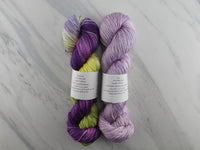 I have created some curated sets of yarn to go with Gift of the Mermaid, a beautiful 2-skein knitting pattern by Lena Matthison of Softyarn Designs. Lena's pattern would be good for an intermediate-level knitter. The stitch patterns are amazing! 

Each set comes with one variegated skein and one semi-solid skein of sock-weight yarn, chosen to go beautifully with the pattern and with each other.
This set has
Purple Iris and Lilac on So Silky Sock
.
Please note that the set does not include the pattern, but you can get that directly from Softyarn Designs right here on Ravelry.


YARN FACTS
Purple Iris and Lilac on So Silky Sock
437 yards each / 3.5 oz / 4 plies - 874 yards altogether / 7 oz altogether
50% superwash merino / 50% mulberry silk
Care: Hand wash or machine wash cold and air dry

NEWSLETTER
Please consider signing up for my weekly newsletter. You'll find secret sales for subscribers only, interviews with pattern designers, tutorials, and announcement for new product lines. You'll also receive 15% off your first purchase from Purple Lamb when you sign up.